Place your ad TODAY to reach thousands of fellow Christians!
For a quote, email your ad & contact info to:
ads@ChristianClassifieds.org
or call 615-984-4143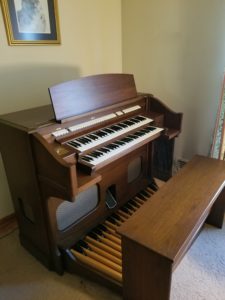 FREE to good home.
Allen Organ, Model T12-A
in excellent condition.
Approximately 40 years old. One Owner. Full pedal board. Can be used in home or church. Kept in temperature controlled home. No damage to instrument other than normal wear and tear.

I'M A CERTIFIED TEACHER FOR THE DEAF K-12 AND
A FREE LANCE INTERPRETER FOR OVER 40 YEARS
I am interested in tutoring deaf kids this summer and/or teaching basic sign language to parents, family or friends.
Contact: Candy Richey
Cr721@aol.com
615-400-1029
BUSINESS PEOPLE ARE INVITED TO ATTEND THE GRACE BUSINESS NETWORKING… meeting that meets at Gracepointe Healthcare, 1311 W Main St., Franklin, TN, at 8:00AM every Wednesday unless otherwise posted. To get more information about this free networking group, you can visit our Meet Up group at: https://www.meetup.com/Grace-Business-Networking-Group/events/245161408/ or our Facebook Page at: https://www.facebook.com/Gracebusinessnetworkingfreegroup/.
WINNIE'S CUSTOM FASHION DESIGN offers sewing classes in Brentwood 615-886-0181
Bott Radio Network Christian Talk Radio
Hear great Bible teaching, believer focused news and local information on Nashville's Christian Talk Radio, Bott Radio Network at 89.1 FM. You can also find a wide variety of Christian related links, resources, activities and program replays at our web site at:
www.BottRadioNetwork.com/station/wecv-89-1-fm
Nashville Christian Family exists to provide Christians and the community at large with ways to strengthen and grow as a part of the Middle Tennessee Christian family. This local monthly publication is designed to promote positive living by sharing with readers of all ages relevant and timely news and information related to health, faith, parenting, youth, finances, Christian entertainment, missions, church leaders, and much more. Visit our online magazine at www.ChristianFamilyNashville.com .
CARE FOR THE ELDERLY IN MY HOME… Large room, outside entrance, attached bathroom, step-in shower. Ramp to porch. Non-smoking home, monitored security system. First Aid- and CPR-certified. Meals, laundry service, medication assistance provided. Call 270-586-0120.
NEED WEIGHT LOSS HELP?  Weight Loss Health Coach to see you through the entire journey. Coach Angie 615-848-8399 HerbalweighofLife@gmail.com.
MARKETING, PUBLIC RELATIONS, SOCIAL MEDIA, MOBILE MARKETING AND COMMUNICATIONS SPECIALIST … is looking for outsourced position(s) in the Nashville/Middle Tennessee area. I am especially interested and skilled in working with churches and/or Christian organizations. I can plan a complete multi media marketing plan to position my client in a wide variety of online and offline media. For an interview, please call 615-220-3927.
LEARN HOW TO… Share Your Faith, Business, Book or Brand On Facebook. Online training shows you how. www.InYourCornerMinistries.com
DO YOU WANT TO PUBLISH A CHRISTIAN BOOK? Join Self Publish Academy and learn how to write, publish and promote your book. www.SelfPublishAcademy.com
FREE COPIERS… for churches and nonprofit groups. Contact Billy at 615-481-6107 for complete details. www.digitecllc.com/nonprofit.htm
FREE… Discount Prescription Drug Cards! Save 10% – 75% on most prescriptions. No Expiration Date! Get yours today! Call (615) 896-0502
HAVE YOU ALWAYS WANTED TO PUBLISH YOUR BOOK?… We can edit, design, print and distribute your book. We'll create a beautiful book for a very low cost. Contact Christian Book Services at (615) 472-1128 or www.helpchristianspublish.com for details and a free quote.
RELAX AND RETREAT… CAN'T AFFORD TO TRAVEL? Affordable Christian Lodging at www.affordablechristianlodging.com Start making memories today!
ONLINE BIBLE CLASS… Watch the "Life Notes Bible Class" from Nashville's Christ Church online each week. This class is taught by popular Christian author, Ken Abraham. Coming soon is a new chapter-by-chapter study of the Book of Revelations. In light of all of the current events, this is sure to be a very interesting class. To view this class, go to www.lifenotesclass.com and access the online videos.
ATTENTION CEO'S, BUSINESS OWNERS AND MANAGERS… You are invited to meet with 70-100 other Christian CEO's, Business Owners and Company Presidents each Friday from 6:45 AM until 8:15 AM for a CEO Fellowship Meeting. We are presently meeting at Brentwood Baptist Church in Wilson Hall. For more information go to www.CEOFellowship.com or call 615-620-6150
FREE BIBLE PICTURES… Choose from 1200 Classic Bible Illustrations, www.freebibleillustrations.com
DIAGNOSED WITH CANCER?…Visit www.ChristiansWithCancer.org for scriptures of hope and healing, healthful recipes and informative links. Request prayers for yourself or a loved one, and find comfort in knowing you're not alone in this journey. As our gift to you, we're offering the inspiring book, Healed of Cancer. Visit our web site to request your free copy!
LIKENESSES DRAWN… at your party in 10 minutes. Linda 568-0640.
NOW BOOKING… Sacred and secular programs available. Suitable for ALL Christian events. Steve Varro Christian Illusionist (615) 594-7890
FREE CRAFT IDEAS… www.christiancrafts.net
START-UP JUNIOR GOLF MINISTRY…Needs financial contributions, equipment and volunteers to take God's message of hope to local mission field. Call Aaron at 615-480-6135 if you can help.
THE DAVE RAMSEY SHOW… Where life happens; caller after caller. You can listen weekdays from 1-4 pm on Supertalk 99.7 WWTN To get questions answered about life, love and money call 1-888-825-5225 (1-888-TALKBAK). For more information about Dave Ramsey productions call 1-888-227-3223.
To place an ad, call 615-984-4143 or email it along with payment info to ads@christianclassifieds.org
Click Here for advertising rates
Now, add a full color photo to your online ad at no additional charge!