Place your ad TODAY to reach thousands of fellow Christians!
For a quote, email your ad & contact info to:
ads@ChristianClassifieds.org
or call 615-984-4143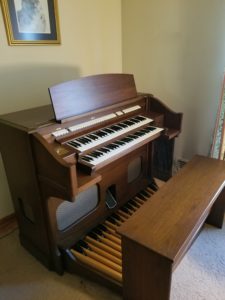 FREE to good home.
Allen Organ, Model T12-A
in excellent condition.
Approximately 40 years old. One Owner. Full pedal board. Can be used in home or church. Kept in temperature controlled home. No damage to instrument other than normal wear and tear.
BEAUTIFUL MARK 11:24 WALL PLAQUE. Gold Metal Mounted on Coated Cherry Wood W/ Key Hole Slot for Hanging. www.scriptureplax.com.
THE TRAUMA OF PASTORAL TERMINATION BOOK – WAITING FOR A SONG IN THE NIGHT by Eli Landrum. $15 – eblj@bellsouth.net plus postage of #2.65
BOOK – THE COMPASSIONATE FATHER: World's Greatest Unfinished Short Story (Luke 15) by Eli Landrum $15 — eblj@bellsouth.net, postage $2.65
Start The New Year With A New Personal Perspective
Mirror Mirror on the Wall who is the fairest of them all? Monica Schmelter readily admits that she has let the number on the scale rule her day on more than one occasion. Monica says, "It's not the desire to look our best that gets us off track, but rather, the unrealistic and unhealthy beauty standards applauded by our culture, that can leave even Jesus loving girls feeling like they don't measure up". Women and girls alike are gazing into the mirror with questions, and looking intently for answers. Does this make me look fat? Am I pretty enough? Is my nose too big? Would a little Botox help? Insert here whatever question/concern you may have… Looking into the mirror will never be the same again as Monica leads you in "Does This Make Me Look Fat?" Practically speaking you'll be empowered with the biblical tools to lay down the mirror of this world, (and its standard of beauty) and to pick up the mirror of God's Word where you will find your true beauty and lasting joy. Get more information or order this book by clicking here. http://monicaspeaks.com/doesthismakemelookfat/