Place your ad TODAY to reach thousands of fellow Christians!
For a quote, email your ad & contact info to:
ads@ChristianClassifieds.org
or call 615-984-4143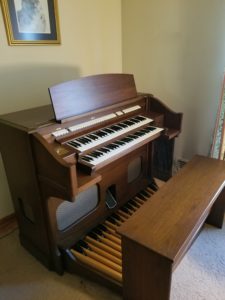 FREE to good home.
Allen Organ, Model T12-A
in excellent condition.
Approximately 40 years old. One Owner. Full pedal board. Can be used in home or church. Kept in temperature controlled home. No damage to instrument other than normal wear and tear.
Is your church web site out of date and
in need of a new look?
Are you getting the exposure you need in Google?
Does your web site lack modern features such as a email collection system or a ministry blog?
If your answer to either of these questions is yes, then you need to consider giving your web site a make over. If you are you ready to effectively position your church in front of your members and motivate them to get more involved in your ministry, then contact us today to get a free analysis of your current site and how it can be upgraded into a more efficient and productive ministry tool for your church. Call Tom at (615) 984-4143 or email tom@tcibnet.com. Be sure to ask about our August special!
FREE COPIERS
For churches and nonprofit groups.
Contact Billy at 615-481-6107 for complete details.
Is Your Church Web Site "Mobile-Friendly"?
If Not, It Should Be and We Can Build It For You!
We will prepare your church to maximize its reach with a mobile web site that ministers to people all week long and lets you interact with your members in the Sunday Worship Services.
In addition to your mobile web site, we will help you utilize the new QR Codes and SMS Text Services to increase your reach and response to your message.
To receive the details, send your contact information by email to: MobileWebSite@ChristianClassifieds.org
Nashville Piano Service – 615-370-0883 – Tom McAninch
Tom McAninch, Second Generation Tuner / Technician. Former First Horn of the Nashville Symphony. Piano Tuning and Repair for ALL makes & models of Upright & Grand Pianos in Nashville and Surrounding Counties. 615-370-0883
CHURCH SOUND SYSTEMS
Professional-Quality Sound Systems for any size House of Worship! Call for a free consultation today!
Contact Scott Oliver 615-397-8661  scott@proaudiosolutions.com
Churches: Improve Your Ministry With Professional Audio, Video and Lighting
CYM Productions has been assisting Churches and Christian Schools in utilizing Audio, Video, and Lighting for their ministry applications for 15 years. We are the ministry professionals for ministry professionals. Call us and find the difference with CYM, we understand your applications and we save you money the first time.
Complete Video Projection System
For Under $2,000
A complete Video projection system for under $2,000… every order placed by the end of June will receive a FREE remote control for your electric screen and FREE SHIPPING.
* Over 1,000 Churches served in 15 years
* A ministry oriented Audio-Video-Lighting company
* 100% financing available
* We do ministry and understand ministry
* Training available
* CYM Productions offers site visit for all Churches
* Guaranteed lowest prices on Audio, Video, and Lighting packages
* Our customers are our partners
* Installation available
* Digital Signage
* We are the Choice with AVL for 2 major Design/Build companies
Call us and discover the difference with CYM. We understand your applications and we save you money the first time.
www.cymproducts.com – cym@comcast.com  – 1(800) 559-4681 (toll free)
GM PAVING… driveways, parking lots, seal coating. Free Estimates. www.GandMPaving.com . Call now / Save now! 615-860-6080 / gmpaving@gmail.com
FULL COMPASS… Pro Audio – Video – AV – Lighting. Serving houses of worship for over 30 years. Talk to a pro today! 800-356-5844 / www.FullCompass.com
GRAPHIC DESIGN… Affordable Logos, brochures, illustration, and more! www.berkleedesign.com   Berklee  615-426-2317
BANQUET SERVICE ON CALL… small groups only. 615-902-6065
SMYRNA MOTORCOACH SERVICES… When your church group needs transportation – local or distant. Call 1-615-459-7059